Waterford Schoolboys Football League
Development Squads Information
Under 15's 2002/2003
Sunday 7th of September saw the conclusion of the SFAI Inter – league competitions for the season 2002/2003. We left for the AUL Grounds Dublin with both our Under 14 squad and our Under 15 squad competing in the semi finals of the tournament. Our Under 15 was squad managed by Ray Moran and Billy Hearne were to play the Galway League.
Under 15 Semi Final: Waterford 1-2 Galway
Unfortunately our Under 15 side were not so lucky in their semi final against the Galway League. We started very brightly in this game and we played some excellent football. We took the lead with a very good goal from Glen O'Neill. Galway got back into the game almost straight away and at half time we were level. The second half saw Galway come into the game more and they notched another goal mid way through which we could not reply to. It was Galway then who went through to face D.D.S.L
Under 15 3rd/4th play off: Waterford 2-1 North East Counties League
In this game we had to get over our disappointment and try and finish off with a result. And to be fair to the lads they were determined not to finish last. They played very well and gave it their all with goals coming from Glen O'Neill once again. A good performance and a good result. Our lads can hold their heads up high. They did us proud defeating Cork in the Munster Final earlier and were just unlucky going out to Galway.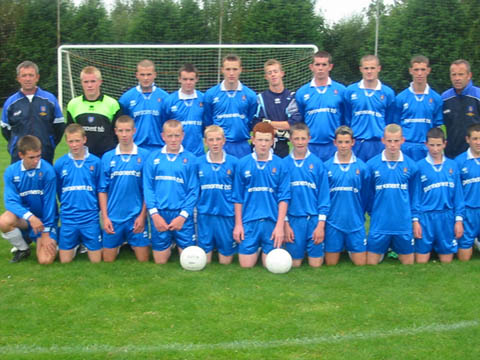 Under 15 Squad: AJ Murray, Seamus Fell, Eoin McGara, Kieran Fitzgerald, Ian Nagle, Paul Quinlan, Jono Connor, Kevin Moran, Ian Crowley, Glen O'Neill, David Collins, Colm Cleary, Cormac Tierney, Jono O'Byrne, Ian Hutchinson, Shane Lannon, Jason Phelan, David Kett, Shane Delehunty, Fergal Walsh.