Waterford Schoolboys Football League
Development Squads Information
Under 14's 2002/2003
Sunday 7th of September saw the conclusion of the SFAI Inter – league competitions for the season 2002/2003. We left for the AUL Grounds Dublin with both our Under 14 squad and our Under 15 squad competing in the semi finals of the tournament. Our Under 14 squad managed by Paul Cashin and Jimmy Donnelly were to play the Inishowen League.
Under 14 Semi Final: Waterford 3-0 Inishowen League
A very comfortable victory for the Under 14 side who were never really troubled by the Inishowen side. We took the lead after 15 minutes from David Grincell. We went two up shortly after with a thunderbolt of a free kick from just outside the box from Chris Hoban. At half time the score was 2-0. In the second half we again stamped our authority on the game and a third goal from Willie John Kiely really killed off the game for us. D.D.S.L Overcame Cork in the other semi final so everybody was looking forward to another mouthwatering clash between Waterford and D.D.SL
Under 14 Final: Waterford 3-2 Dublin & District Schoolboy League
What a fantastic game of football which saw us crowned Champions of Ireland. When Waterford and Dublin meet in Schoolboy football you are ensured of a cracker of a game and this one was no exception. We started very brightly and took the lead when Willie John Kiely pounced on a loose ball in the box. Dublin came back at us and were awarded a penalty soon after which they dually converted. Half time was 1-1 and the game was wide open.
The second half was tight and tense. Unfortunately for us mid way through the second half Dublin were awarded their second penalty of the game which they again scored. We looked dead and buried at this stage but not so this Waterford team showed a lot of character and came right back at Dublin. A great run again from Willie John saw him get our second goal of the game with an excellently placed shot to send the crowd wild. With the game still up for grabs we got what proved to be the winner with ten minutes left with an excellent header form Eddie Nolan.
It was batten down the hatches time for the next ten minutes and we cleared anything that came at us. The whistle went and many jubilant scene's followed. Waterford had won yet another All – Ireland trophy. Well done to all the lads the management and the Man of the Match was Sean Brown who put in two excellent performances. Well done Browno!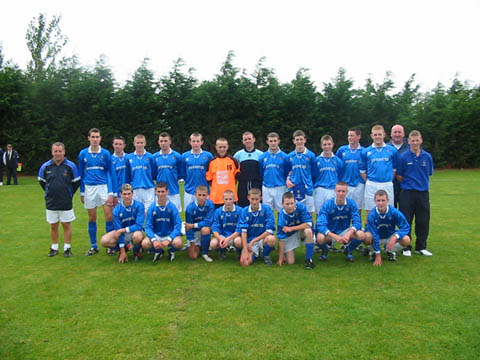 Under 14 Squad: Andrew Halligan, Philip Tobin, David Baxter, Chris Hoban, Michael Tracey, Eddie Nolan, Matthew Billingham, Sean Browne, Stephen O'Shea, Frank Galvin, Willie John Kiely, Dean Rochford, Mark Morahan, Kevin Roche, David Grincell, Christy Power, Sean Fitzpatrick, Paul Walsh, Gavin O'Reilly.